Urban Decay Gwen Stefani paletten som kom ut här för ett litet tag sen kan vara bland de finaste ögonskuggepaletterna på länge!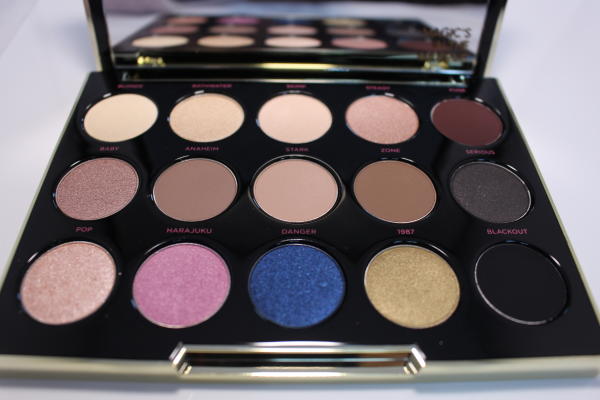 När Urban Decay Gwen Stefani Paletten kom ut i butik så slog jag genast till. Jag vet att en del tycker att paletten är för dyr, inte är så Gwen och att färgerna inte är så pigmenterade som Urban Decays skuggor brukar vara men jag gillar paletten. Designen är grymt snygg och paletten känns rejäl. Den har en stor inbyggd spegel men det följer inte med någon borste. Färgerna på skuggorna är fina och användbara. Jag verkligen älskar den matta brunvinröda Punk! Jag skulle tipsa om att använda en primer under skuggorna för att riktigt få fram de vackra färgerna. Skuggorna smular lite men jag tycker ändå att de håller fin kvalité även om jag inte tycker att de är riktigt lika bra som de i UD:s Naked Paletter.
Ja det finns billigare märken med lika bra skuggor men jag har inte ångrat att lyxade till det med den här chica paletten. Jag har redan använt den mycket och kommer definitivt använda den mer.
The Urban Decay Gwen Stefani palette that was released a while back could be one of the most gorgeous looking eye shadow palettes that has been released in the near time.

When the Urban Decay Gwen Stefani Palette landed in stores I immediately knew that I had to have it. I know that some think it's to expensive, not so Gwen and not as well pigmented as UD:s shadows usually are but I actually really like this palette. The design of the palette is really chic and it feels sturdy. It has a big built in mirror but no brush. The colours of the shadows are lovely and so useable. I love the burgundy-brown Punk! I would suggest using a primer to really make the beautiful shades stand out. I experience the shadows as a bit dusty and that they could cause some fall down when used without primer but they still are good quality shadows, just not as good as the shadows in the UD Naked Palettes.
Yes you could definitely find just as good eyeshadows from cheaper brands but I'm not regretting buying this chic palette. I've been using it a lot and will definitely use it more.