I år har Marc Jacobs lanserat parfymer i The Kiss edition. Jag slog till på Marc Jacobs Daisy Kiss EdT som ska vara en blommig och fruktig tolkning av den klassiska originaldoften Daisy från 2007. The Kiss edition är en limiterad kollektion där den rosa färgen är inspirerad av Marc Jacobs livfulla färger i märkets Resort Fashion Collections.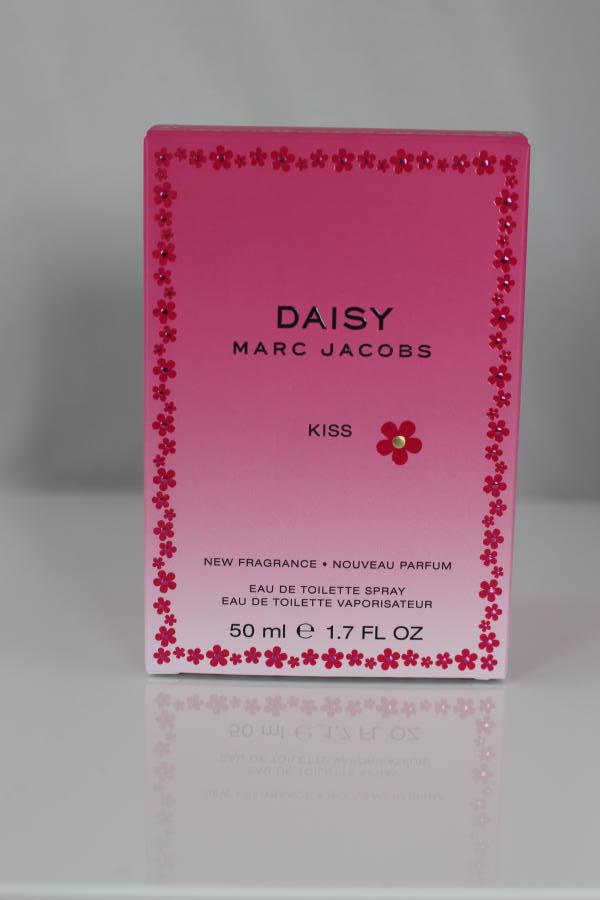 Designen på Marc Jacobs Daisy Kiss EdT är gulligt flickig med den rosa färgen och de stora blommorna.
Doftnoter i Marc Jacobs Daisy Kiss EdT
Toppnoter: Valentine Pomelo, aprikosnektar & viol
Hjärtnoter: Osmanthusblomma, vit pion & rosa ros
Basnoter: Krämigt cederträ, ambroxide & mysk
De här är inte en doft för den som är ute efter en parfym som gör intryck. Den är ärligt talat ganska intetsägande. Doften är väldigt lätt och håller inte i sig så länge. Redan vid lunch är minsta antydan till parfymen ett minne blott på mig. Marc Jacobs Daisy Kiss EdT är lika flyktig som en kyss tyvärr.
Trots att Marc Jacobs Daisy Kiss EdT är intetsägande och doften är väldigt flyktig så gillar jag den. För mig är den perfekt som vår och sommardoft. Den är lätt, fräsch och gör inte mycket väsen av sig. Det passar mig när det börjar bli varmt ute. Jag får lätt huvudvärk av dofter som tar för mycket plats och när det blir varmt ute blir jag dessutom lätt illamående av dofter. Trots det tycker jag om att kunna dofta gott och då blir det lätta dofter som gäller. Sedan hade jag önskat att doften från Marc Jacobs Daisy  Kiss EdT hade stannat kvar lite längre.
This spring Marc Jacobs have released perfumes in The Kiss edition. I decided to buy Marc Jacobs Daisy Kiss EdT that's suppposed to be a fruity floral version of the classic Daisy from 2007. The Kiss edition is a limiterad collection where the pink colors is inspired by the vivid colors of Marc Jacobs Resort Fashion Collections.
The Marc Jacobs Daisy Kiss EdT design is girlish and cute with its pink color and the big flowers attached. 
The notes in Marc Jacobs Daisy Kiss EdT
Top Notes: Valentine Pomelo, apricot nectar & violet
Middle notes: Osmanthus, white peony & pink rose
Base notes: Cedar, ambrox & musk 
This isn't a perfume for those who wants to make a statement. It's actually a quite plain perfume. The scent is light and doesn't last that long. Around lunchtime I can't smell the slightest bit of it. Marc Jacobs Daisy Kiss EdT. It's as fleeting as a kiss.
Even though Marc Jacobs Daisy Kiss EdT is plain and the scent is fleeting I still like it. For me this is the perfect spring and summer scent. It's light, fresh and doesn't make much noise. It's perfect for me in summer when it's hot. I easily get headache from scents that takes to much space and when it's hot I can also start feeling nauseous when scents gets to noticeable. I still like to smell nice. Then light scents is a must. I do wish that the scent from Marc Jacobs Daisy Kiss EdT would have lasted longer.