Visst kan det var kul att se vad andra har i handväskan? Idag tänkte jag att vi skulle titta närmare på vilka lippisar som gömmer sig i min handväska just nu. Min handväska väger tre ton och innehållet består framför allt av laptop, mobiltelefoner (japp plural), plånbok, anteckningsblock (även de plural), massvis med bläckpennor (använder aldrig blyert), mängder av gamla namnskyltar från konferenser, hopknölade kvitton, romaner och en hel del skräp… Smink finns i väskan ibland men varieras beroende vilka produkter jag känner för just den dagen. Jag lämnar däremot aldrig lägenheten utan lippisar.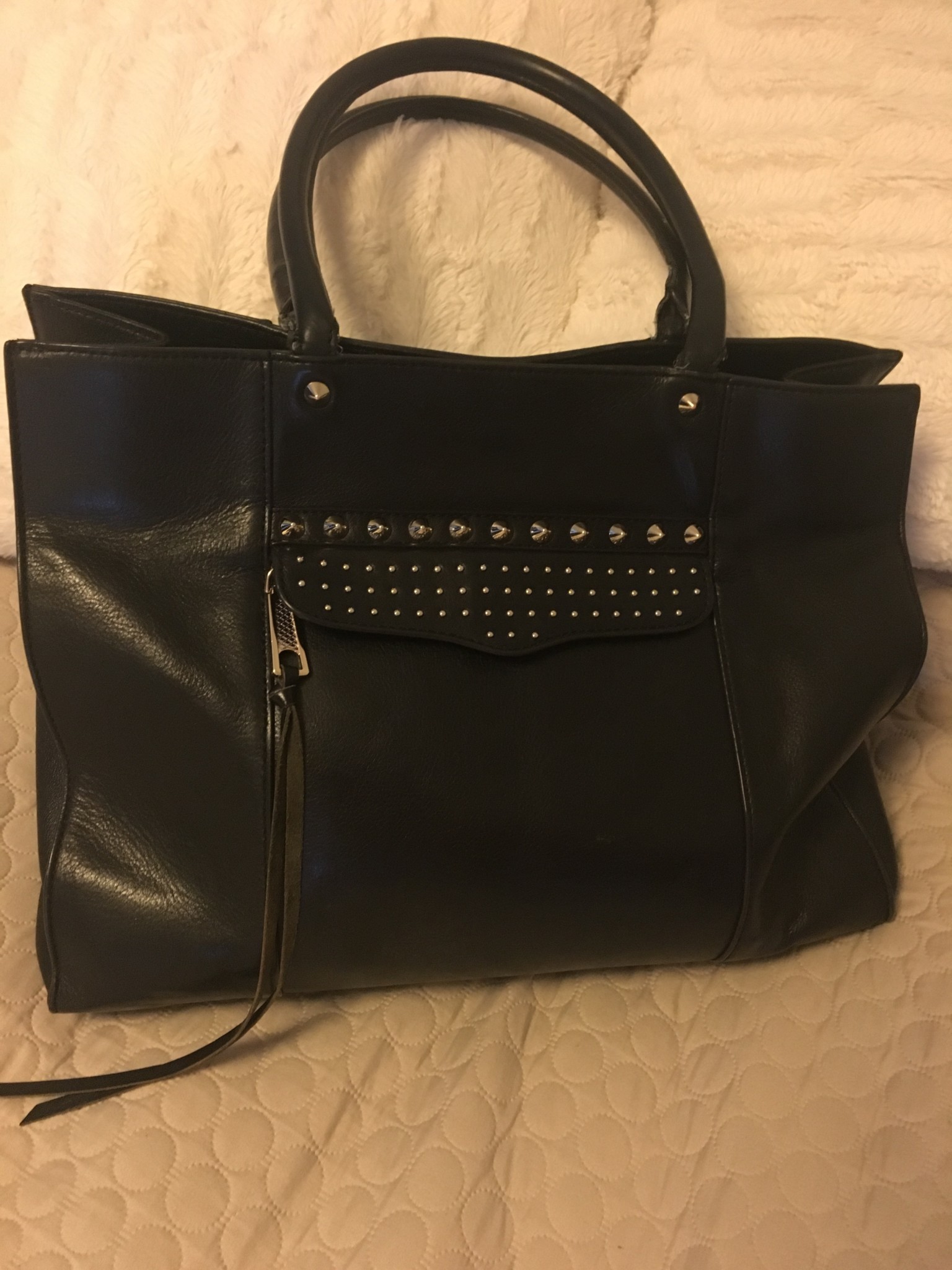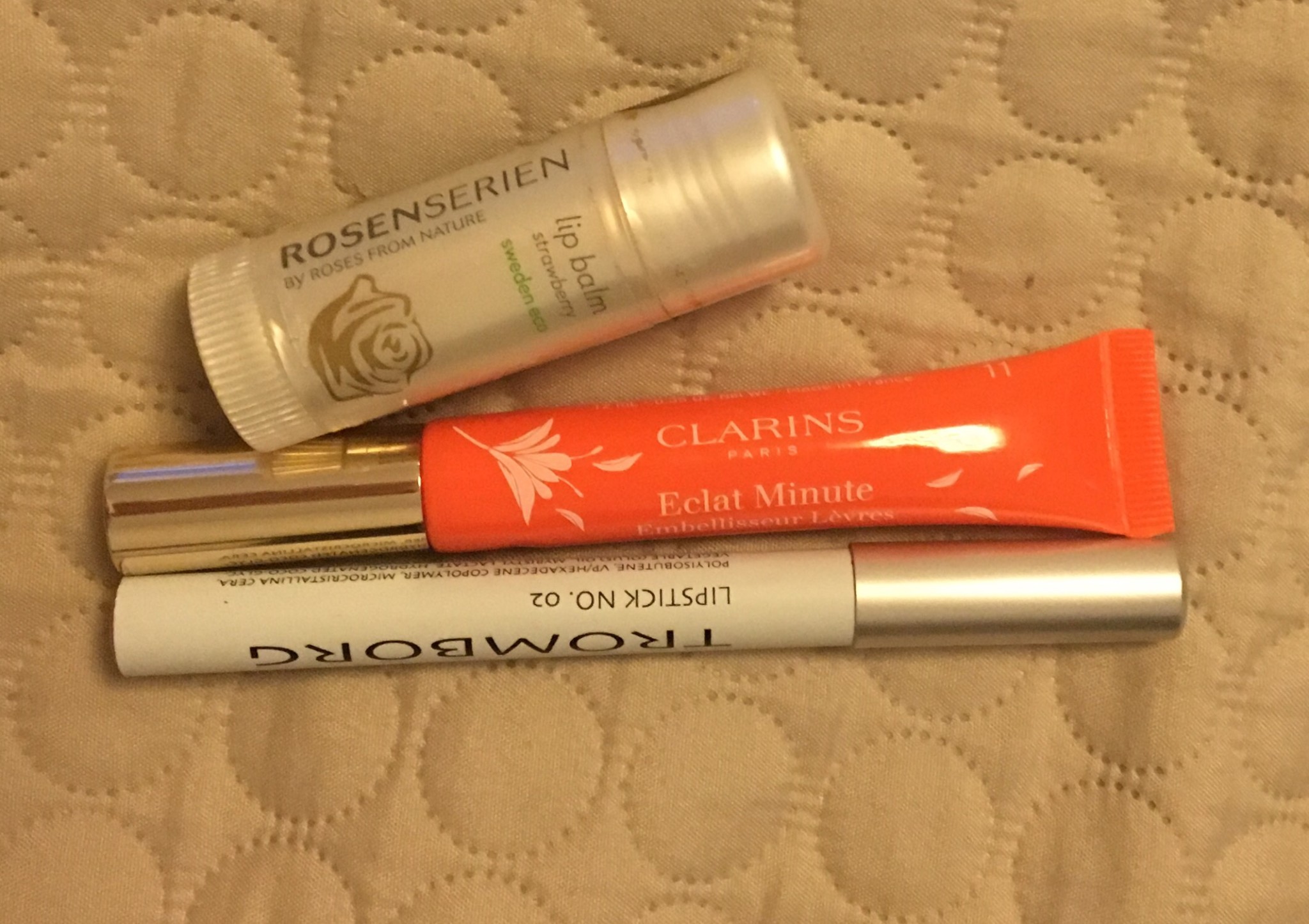 Läppbalsam kan jag absolut inte vara utan. Då springer jag genast in i närmsta butik och köper på mig ett. Sedan gillar jag att ha någon lippie som ger lite diskret färg och är snabbt och enkelt att applicera.
De som göms i min handväska just nu är Rosenserien lip balm Strawberry, Clarins instant light natural lip perfector 11 orange shimmer och Tromborg Lipstick Jumbo Pen i färgen No 2.
Rosenserien lip balm Strawberry är ett stort lip balm stick som luktar gott och ganska mycket av typ jordgubbsgodis. Doften håller i sig rätt länge. Jag gillar att det har skruvkork som sitter säkert på plats. Tyvärr tycker jag inte att själva läppbalsamet är så bra. Måste återapplicera det ganska ofta. Pris 115 kr.
Clarins instant light natural lip perfector 11 orange shimmer är ett läppglans som förstärker läpparnas naturliga färg samt gör dem jämnare och fylligare. Mumsig doft av vanilj och kola. Praktisk tub med skruvkork och sponge applikator. Ger lätt färg och lyster till läpparna. Ska ge fukt och näring samt skydda mot fria radikaler samt väder och vind. Jag vet att alla verkar älska dessa utom jag. De är helt ok men jag blir inte särskilt imponerad. Jag är iofs inte så förtjust i läppglans så det kanske är därför. Pris ca 179 – 195 kr.
Tromborg Lipstick Jumbo Pen i färgen No 2 är ett diskret "nudefärgat" läppstift med diskret skimmer i smidig pennform. Otroligt skön formula som känns nästan som ett läppbalsam. Jag gillar verkligen den här. Perfekt när man vill ha lite diskretare färg. Pris ca 279 kr.
Ja de var de lippisar som ligger i väskan just nu men det ändras såklart hela tiden.
It can be a bit fun to see what others have in their handbag, don't you think? Today, I thought we would look at the lippies I have hiding in my handbag at the moment. My handbag weighs three tons and the content consists mainly of a laptop, mobile phones  (plural), wallet, notepads, a lot of ball point pens (I never use pencils), lots of old nameplates from conferences, old and crumbled receipts, novels and a lot of junk … I do have some makeup in my handbag sometimes but which products varies depending on what products I feel like wearing on that particular day. However, I never leave the apartment without some lippies in my bag.
I can't live without lip balm. If I leave home and forget to bring a lip balm then I immediately jump into the nearest store and buy one. I also like to have one or more lippie that gives a little discreet color and is quick and easy to apply.
The ones that are hiding in my purse right now are Rosenserien lip balm Strawberry, Clarin's instant light natural lip perfector 11 orange shimmer and Tromborg Lipstick Jumbo Pen in No 2.
Rosenserien lip balm Strawberry is a large lip balm stick that smells nice and quite much of strawberry candy. The scent lasts for a long time. I like that it has a screw cap that keeps it securely closed. Unfortunately, I do not think the lip balm itself is so good. I need to reapply it quite often. 
Clarins instant light natural lip perfector 11 orange shimmer is a lip gloss that enhances the natural color of the lips, making them even and fuller. Has a yummy scent of vanilla and caramel. Convenient tub with screw on cap and sponge applicator. Gives shine and luster to the lips. It also gives moisture and nutrition, and protects against free radicals as well as weather and wind. I know that everyone seems to love these except me. They are quite ok but I'm just not very impressed. I'm not so fond of lip gloss, so maybe that's why. 
Tromborg Lipstick Jumbo Pen in color No 2 is a discreet "nude" lipstick with discreet skimmer in smooth pencil shape. Incredibly wonderful formula that feels almost like a lip balm. I really like this one. Perfect when you want just a bit of discreet color. 
That's the lippies that I have in my bag at the moment but of course it changes all the time.