Det är inte brunt, det är inte nude, det är inte rosa, det är inte ingenting. Det är allt detta på samma gång! Det är MLBB.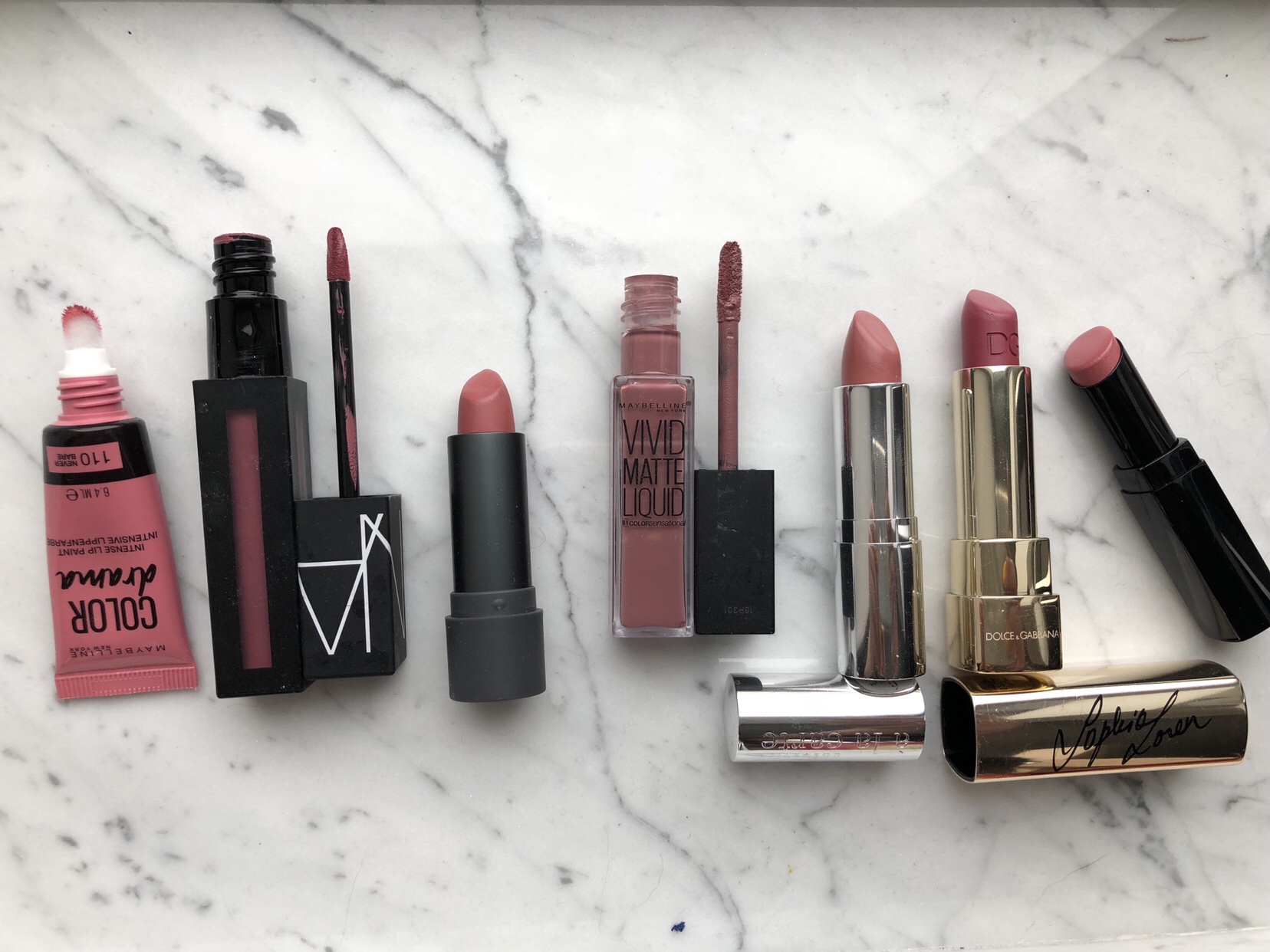 Jag älskar färgstarka läppar men My Lips But Better (MLBB) är också jag, bara lite mer sällan. Så här ser min samling ut.
Jag har gärna orange, klarrött och cerise läppstift till vardags. Jag har gärna grönt, blått eller lila läppstift till fest. Och ibland vill jag, tro det eller ej, ha en neutral färg på läpparna, något som bara är en förstärkt variant av min naturliga läppfärg. En MLBB – My Lips But Better. Och jag har faktiskt några sådana i samlingen också, även om de är i minoritet. Låt oss ta en titt på mina MLBB-lippies!
Från vänster till höger på bilderna:
Maybelline Color Drama Intensive Lip Paint 110 Never Bare, 79 kr. Det mest rosa av mina MLBB-läppisar. Kanske inte exakt en läppfärgsliknande färg, men ganska nära och ger en flickig fräschör. Jag använde den flitigt i somras.
NARS Powermatte Lip Pigment Save The Queen, 275 kr. Snyggt, matt, flytande läppstift som är lite mörkare än min naturliga läpp. Sitter som berget, 1-3 appliceringar per dag räcker fint. Visserligen försvinner en del av pigmenten, som jag surade över här, men när jag nu har använt läppstiftet längre inser jag att även om pigment försvinner så finns mer än tillräckligt kvar på läpparna.
Bite Beauty Sheer Crème Lipstick MLBB, $ 45 (plus resa till New York). Kanadensiskt varumärke som erbjuder Bespoke Beauty (skräddarsydd kosmetika) på vissa adresser i världen, till exempel i sin flagship store på den amerikanska östlusten. Mitt personliga läppstift är blandat på 1/4 Vouvray, 1/4 Musk och 1/8 Saffron. Hur det gick till när jag gjorde det kan du se här. Och nu när jag bloggar om läppstiftet inser jag att det är nästan två år gammalt och borde slängas! Krämiga produkter håller ju sämre än torra, och Bite Beauty Sheer Crème Lipstick MLBB har dessutom vevats runt i det bakterietäta området kring munnen, så det är dags för läppstiftsättestupan. Buhuuuuuu!
Maybelline Vivid Matte Liquid 02 Grey Envy, 99 kr. Flytande läppstift som är ganska likt NARS Powermatte Lip Pigment och som innehåller 7,7 ml (att jämföra med Nars 5,5 ml). Men medan Nars sitter länge sitter Maybelline… inte riktigt lika länge. Inte så jättematt läppfärg, vilket Kashaya har bloggat mer om här.
Cosmetics à la Carte Lipstick My Lips But Better, £55 (plus resa till London). En 40-årig engelsk institution som gör specialbeställt smink till maskörer, makeupartister och till helt vanliga människor. Jag passade på att göra ett MLBB-läppstift, du kan läsa mer om mitt besök här. Det är intressant att både detta läppstift och det lika skräddarsydda läppstiftet från Bite Beauty är betydligt gulare i tonen än de My Lips But Better-färger som jag väljer själv. Jag har uppenbarligen ett stört färgseende, alternativt en störd självbild.
Dolce & Gabbana Shine Lipstick No 1 Sophia Loren, € 30 (plus resa till land som säljer Dolce & Gabbana-smink, jag har köpt mina läppstift i Italien). Under lång tid var det här Limited Edition-läppstiftet, som har gjorts i samarbeten med ikonen Sophia Loren, slutsålt nästan jämt. Så varje gång jag har stött på det har jag köpt 1-3 stycken, inte bara för att ha själv utan också för att ge bort. Sams mamma är, liksom jag, inne på sitt andra. Färgen är nämligen klädsam på både ljusare och mer olivfärgade hudtoner. Idag används inte Lorens namn längre, och hennes autograf finns heller inte längre på hylsan, utan färgen heter kort och gott N0 1 S. Ett av de mest smickrande läppstift jag har stött på!
Suqqu Creamy Glow Lipstick Moist 03, £ 27. Skirt, neutralt lippie som också är ett läppbalsam. Hudvårdande. Jag skulle kunna köpa tio stycken och ha ett i varje handväska och ficka, för det här läppstiftet funkar till ALLT. Men det kan jag inte göra för läppstiftet har utgått. Så nu låtsas jag som att det inte alls har passerat bäst före-datum.
Brukar du leta efter MLBB-läppisar? Eller föredrar du generellt något annat?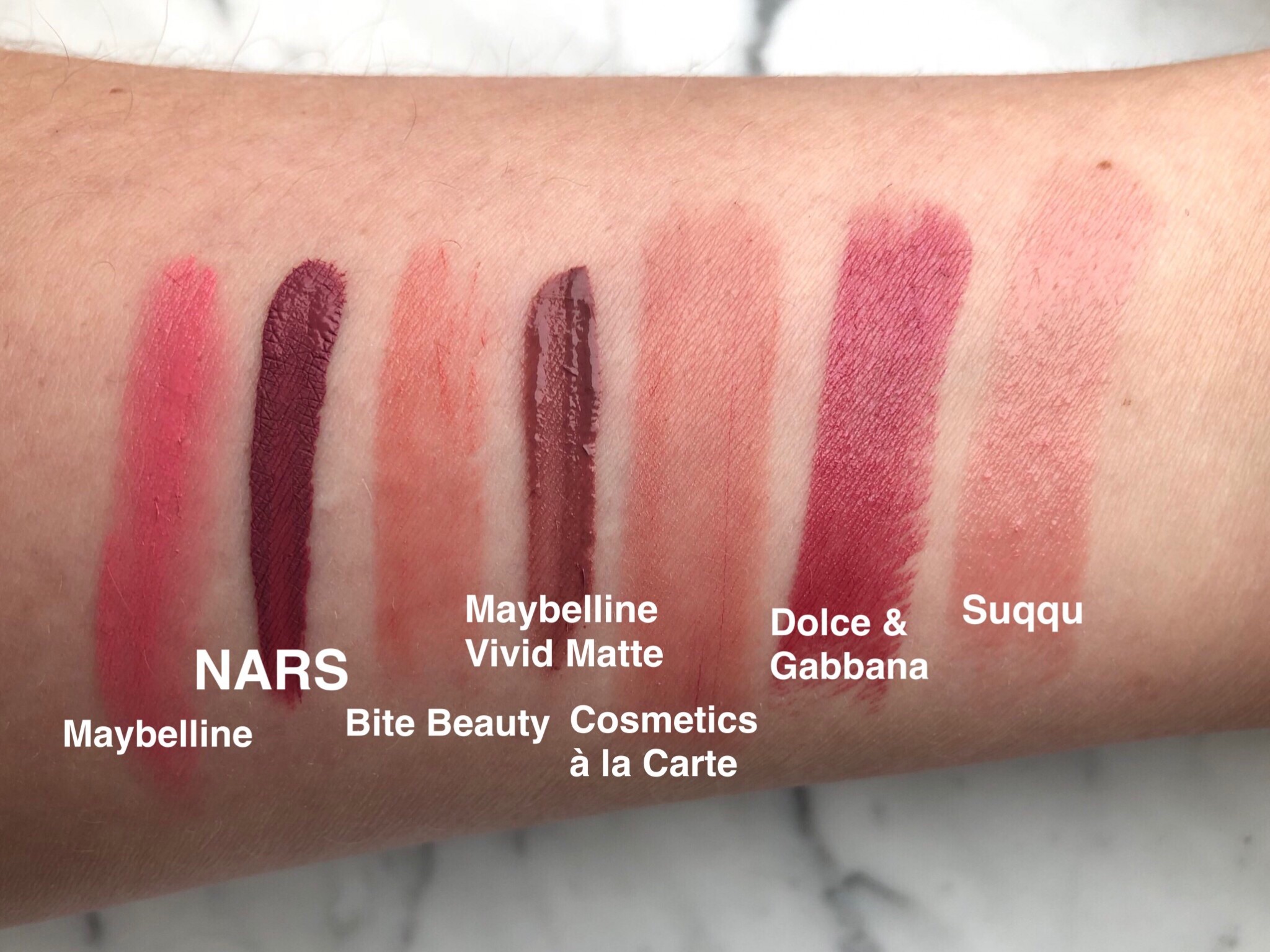 In English: My collection of MLBB lippies.