Jag har testat Elizavecca MilkyPiggy Silky Creamy Donkey Steam Cream Mask  som ska vara en ordentligt återfuktande mask som ska hjälpa huden att återhämta sig från extrem torrhet och flagande. Den här masken var en major fail.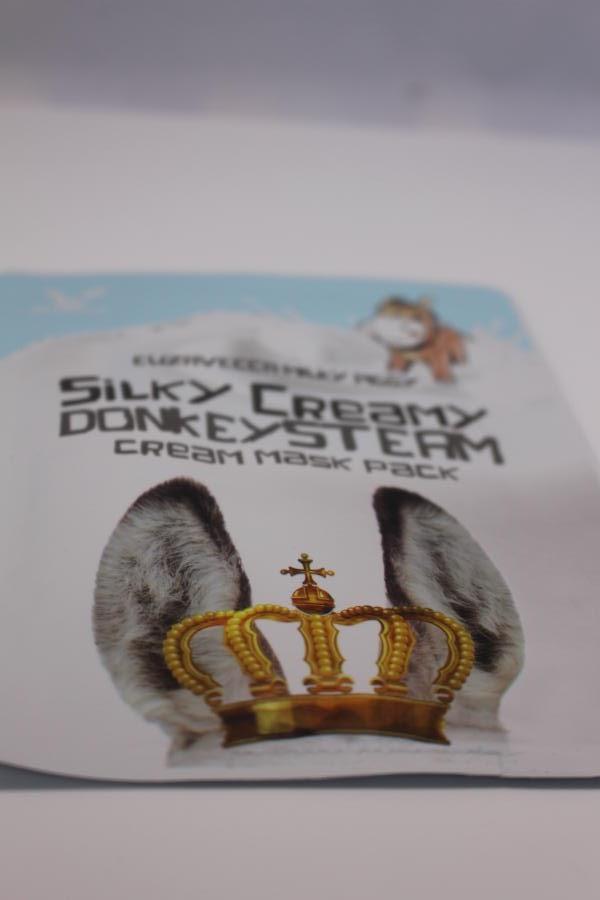 Elizavecca MilkyPiggy Silky Creamy Donkey Steam Cream Mask är en sheet mask med kanske inte världens bästa passform. De flesta sheet masks innehåller lätta serum men den här är indränkt i en vit kladdig kräm. Den ska ha en speciell "steaming action" som särskiljer den från andra sheet masks. Den här processen ska öppna upp porerna för full absorbtion. Kan väl säga att jag inte märket av något särskilt med den här sheet masken annat än det jag redan nämnt att den var inkletad med en kräm istället för serum. Märket ingen "steaming action" men jag har sett att andra tycker att de kan svettas lite i masken.
Masken ska sitta på i 10-15 minuter. Sedan klappar man försiktigt in rester av masken i huden.
Det här var en extremt kladdig historia. Tror min hud absorberad ungefär 0% av den här masken. Jag hade massor av vit kladdig kräm (all kräm?) kvar i ansiktet efteråt. Min hud absolut ingen  som helst plan på att absorbera den. Resultatet? Blank och fet hud som såg ut som jag had smörjt in mig med smör och tilltäppta porer till följd av detta. Jag har torr hud men den här var alldels för mycket. Du bör verkligen ha EXTREMT torr hud som behöver mycket fett, inte fukt, innan du ger dig på den här. Jag har sett att vissa tycker den fungerar bättre om man först tar bort rätt mycket kräm från masken innan så den blir lite torr men det känns som slöseri. Då tycker jag att det är bättre att köpa en lättare mask istället.
En blank, fet och smördrypande look och tilltäppta porer är inte direkt något jag eftersträvar så den här masken gick inte alls hem hos mig. Den var istället en major fail.
INCI: Purified Water, Glycerin, Butylene Glycol, Grape Seed Oil, Sodium Hyaluronate, Caprylic/Capric Triglyceride, Glyceryl Stearate, Polysorbate 60, Shea Butter, Cetearyl Alcohol, Cyclopentasiloxane, Dimethicone/Vinyl Dimethicone Crosspolymer, Dimethicone, Witch Hazel Extract, Citrus Paradisi (Grapefruit) Fruit Extract, Centella Asiatica Extract, Hydrolyzed Collagen, Pomegranate Extract, Sea Grape Extract, Seaweed Extract, Hexapeptide-1, Chlorphenesin, Carbomer, Tocopheryl Acetate, Allantoin, Disodium EDTA, Arginine, Donkey Milk (100ppm), Perfume
I've tried Elizavecca MilkyPiggy Silky Creamy Donkey Steam Cream Mask  a heavy moisturizing mask that's suppose to focuses on helping the skin recover from extreme dryness and flaking. This mask was a major fail.
Elizavecca MilkyPiggy Silky Creamy Donkey Steam Cream Mask is a sheet mask that doesn't exactly have the best fit. Most sheet masks are drenched in a light weight serum but this is instead drenched in a white heavy cream.  It's suppose to have a special steaming action which sets it apart from the usual mask sheets. This process is suppose to increases effectivity of the mask for it opens the pores for full absorption. I can't say I felt any steaming action. The only difference I've noticed from other sheet masks was as I already told you that it's drenched in cream instead of a lighter serum. I've seen that others who have tried it sometimes have experienced some sweating.
The mask should be left on for 10-15 minutes and then you gently pattens remaining cream in to the skin.
This mask was a messy and greasy story. My skin absorbed ruffly 0% of the cream. There was A LOT (all?) cream left on my skin afterwards and tapping it in? Don't think so. My skin totally refused to absorb this. The result? Shiny, greasy skin that looked like I had tried to rub it with butter which then led to clogged pores. I have dry skin but this was just way too much.  You really should have EXTREMLY dry skin in need of oil, not moisture, before you think about using this. I've seen that some people thinks it works better if you first remove a lot of cream making the mask dry before you use it. That sounds like such a waste. Then I defintely think it's better buying a lighter mask instead.
A shiny, greasy butter drenched look with clogged pores isn't exactly what I'm looking for so this was definitely not a hit for me. Rather it was a major fail.
INCI: Purified Water, Glycerin, Butylene Glycol, Grape Seed Oil, Sodium Hyaluronate, Caprylic/Capric Triglyceride, Glyceryl Stearate, Polysorbate 60, Shea Butter, Cetearyl Alcohol, Cyclopentasiloxane, Dimethicone/Vinyl Dimethicone Crosspolymer, Dimethicone, Witch Hazel Extract, Citrus Paradisi (Grapefruit) Fruit Extract, Centella Asiatica Extract, Hydrolyzed Collagen, Pomegranate Extract, Sea Grape Extract, Seaweed Extract, Hexapeptide-1, Chlorphenesin, Carbomer, Tocopheryl Acetate, Allantoin, Disodium EDTA, Arginine, Donkey Milk (100ppm), Perfume