Jag fortsätter My Little Pony temat med Colourpop My Little Pony Collection. Här har jag hela kollektionen och den är verkligen så söt. My Little Pony designen här är den klassiska 80-tals designen. Jag tycker 80-talets My Little Ponys är mycket sötare än designen de har nu. Men det kanske beror på att jag är ett barn av 80-talet.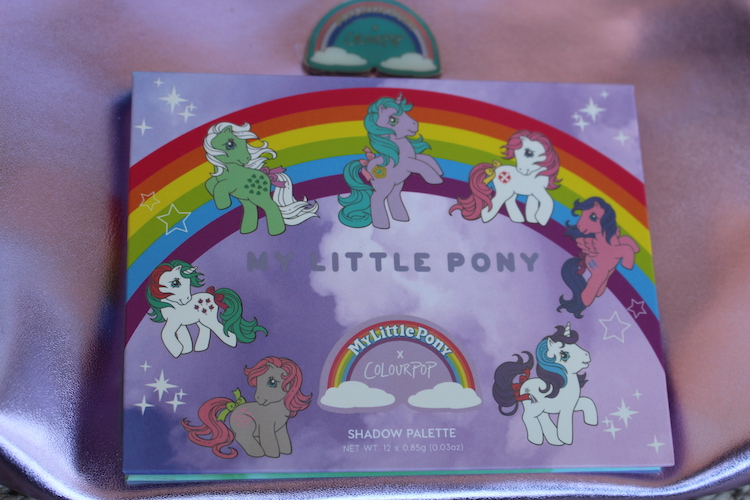 Ja nu var det inte My Little Pony leksaker jag hade tänkt skriva om utan den fantastiskt fina Colourpop My Little Pony collection. Här hittar du ett borstset, en ögonskuggepalette, tre singel glitterskuggor, två highlighters och sex lippies.
Glitterskuggorna är nog de produkter jag gillar minst i den här kollektionen. En av dem kom även fram sprucken men det spelar ingen större roll. Förutom att den inte riktigt gör sig lika bra på bild.
Paletten älskar jag och läpprodukterna lika så. Det guldiga glosset är det jag gillar minst av läpprodukterna i kollektionen.
På det stora hela gillar jag verkligen den här kollektionen. Jag tycker man blir glad av den. Barnslig, men fantastiskt söt, design på kollektionen.
I'm continuing the My Little Pony theme today with the Colourpop My Little Pony Collection. Here I have the whole collection and it is really cute. The My Little Pony design here is the classic 80's design. I think the 80's My Little Ponys are much cuter than the design the ponies have now. But maybe that's because I'm a child of the 80's.
Well now it wasn't the My Little Pony toys I was planning on writing about. It was the amazingly cute Colourpop My Little Pony collection. Here you'll find a brush set, an eye shadow palette, three single glitter shadows, two highlighters and six lippies.
The glitter shadows are probably the products I like the least in this collection. One of them arrived broken but it doesn't matter. It doesn't look that good on photo though. 
The palette I love and the lip products as well. The lip product I like the least is the golden gloss.  
On the whole, I really like this collection. It makes me happy. The design is childish but amazingly cute.