Vårkollektionen Nauti by Nature från KBshimmer bestod av totalt 12 lack. Här nedan ser ni fem av lacken.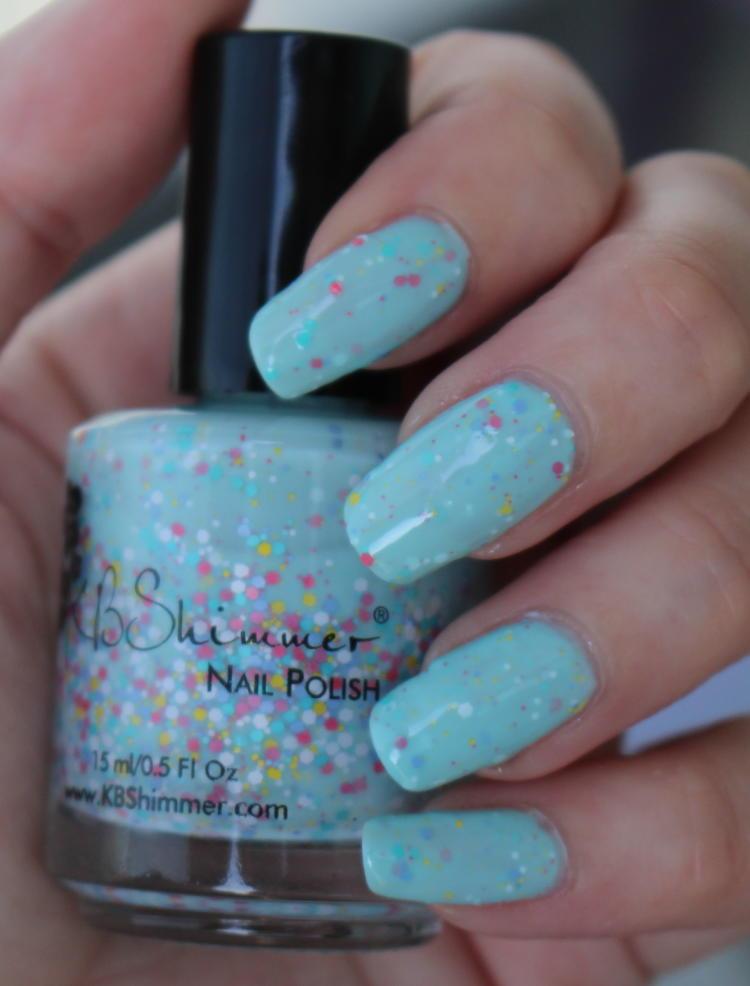 De lack från Nauti by Nature Collection som jag testar hittills är:
Tempting Fête ett vitt crelly med glitter i guld, lila, oranget, rosa och grönt. Lacket är inspirerat av en Junkanoo-dräkt. Junkanoo är en färgglad gatufestival som hålls i Bahamas.
Starfishing for Compliments är en ljust grå-beige crelly med vita, svarta, turkosa och korallfärgade hex glitters och svarta stjärnor. Lacket är inspirerat av de uppkommande instagram älsklingarna som tar selfies på stranden med sina drinkar för att visa upp sin senaste outfit och fiskar efter kommentarer och likes.
Saved by the Shell är ett beige-aprikost lack med vackert kopparrosa skimmer. Lacket har hämtat sin inspiration från snäckskal.
Salt Water Sassy är ett mintgrönt crelly med vita, gula, korallfärgade och ljust blålila hex glitter. Lacket är inspirerat av de pastellfärgade färgklickar du kan se utefter den karibiska kusten.
Show me the Mahi är ett blått jelly med limegröna och grönblå glitter mindre färgkiftande glitter. Lacket är inspirerat av havet där äventyrsfulla resenärer kan ge AIG ut till djupare vatten och hitta fiskar som Mahi Mahi.
Jag gillar alla fem lacken. Den känns roliga och man blir glad av dem.
Alla lacken finns fortfarande att köpa och priset är ca $9.25/st eller €8.39/st beroende på var du köper dem.
Nauti by Nature was the spring collection from KBshimmer and contained a total of 12 polishes. Above you can see five of them. 
The polishes from the Nauti by Nature Collection that I've tested so far are:
Tempting Fête a white crelly with gold, purple, pink, orange and green glitters. The polish is inspired by a Junkanoo costume. Junkanoo is a street festival hold in the Bahamas. 
Starfishing for Compliments is a pale greige polish with white, black, turquoise  and coral hexes and black stars. The polish is inspired by up and coming instagrammers sweethearts taking selfies on the beach showing their colorful drinks and latest OOTD fishing for compliments and likes.  
Saved by the Shell is a beige apricot polish with a coppery shimmer. The polish is inspired by sea shells. 
Salt Water Sassy is a mint colored crelly with white, yellow, coral and periwinkle glitters. The polish is inspired by the clicks of color you can see along the Caribbean coast line.  
Show me the Mahi is a blue jelly with lime and greenish blue glitters and color shifting glitters. The polish is inspired by the sea where adventurus travelers can go out on deep water and find fishes like the Mahi Mahi.
I like all five polishes. They are fun and they make me happy. All of them are still available. Price somewhere between $9.25/each and €8.39/each depending on where you buy them from.