Clinique Pop Laquer Lip Colour + Primer, ett täckande läppglans med primereffekt.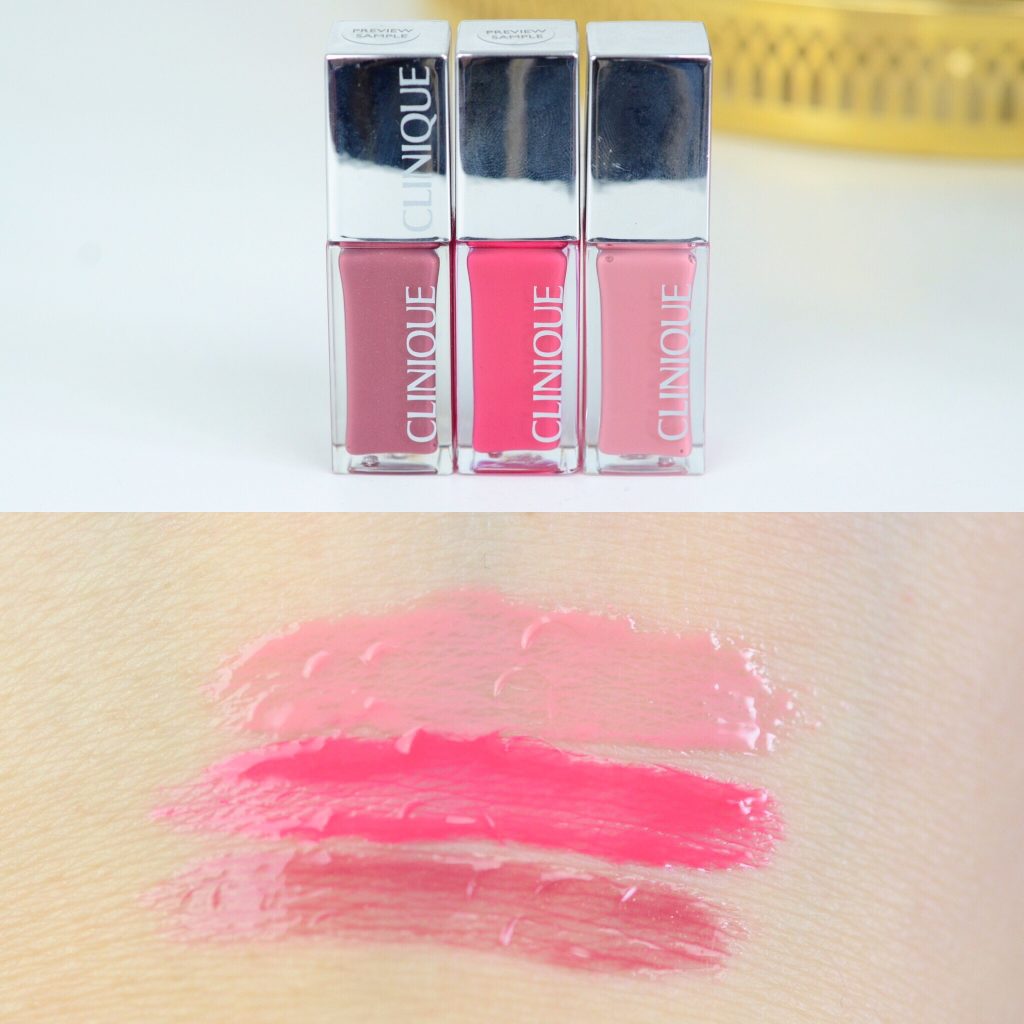 Love Pop, Sweetie Pop, Wink Pop, ordning som bilden högst upp.
Läppglanset kommer i en snygg stilren hylsa med en klassisk doe foot applikator. Dock något mera platt men droppformad än den typiska formen vi brukar se. Inget som är till produktens nackdel. Jag gillar formen på applikatorn. För att vara läppglans så är de hyfsat täckande och verkligen sköna på läpparna. Inte alls särskilt kladdiga. Jag har mycket svårt för kladdiga gloss. Dessa känns något mer kladdiga än ett läppbalsam vilket är ett bra betyg.
Jag har tre av de sju färgerna som finns att välja på. Och hör och häpna, jag gillar alla tre färger. Oftast brukar det ju vara någon nyans som man inte riktigt känner att man gillar så mycket men icke i det här fallet. Jag har inte kollat på resterande färger i verkligheten så de kan jag inte uttala mig om. Förutom att färgerna på Cliniques hemsida verkligen inte stämmer överens med verkligheten. Inte mot de tre jag har.
De ska hålla i upp till sex timmar, det upplever jag inte att de gör. Det är ett läppglans vi pratar om. Men det håller bättre än ett vanligt glans i alla fall. Men helt och hållet beror det på om man äter och dricker. Gör man inte det så sitter det ju kvar ett tag, någon timme innan jag bättrar på.
Dessa kostar ca 235 kr styck. Har ni testat? Vad tycker ni om dom? 
Clinique Pop Laquer Lip Colour + Primer is a good lip gloss. It's not sticky and it stays on for some time if you don't eat and drink. Then you have to touch up. But I touch up after an hour or so anyway. Really love these three colors too. So pretty.