Hej Åsas make här. Tidigare i helgen tonade jag och min fru håret… okej hennes hår blev tonat och jag hjälpte till. Det var
L'Oréal

Colorista Wash out i färgen dirty pink som stod på dagens meny.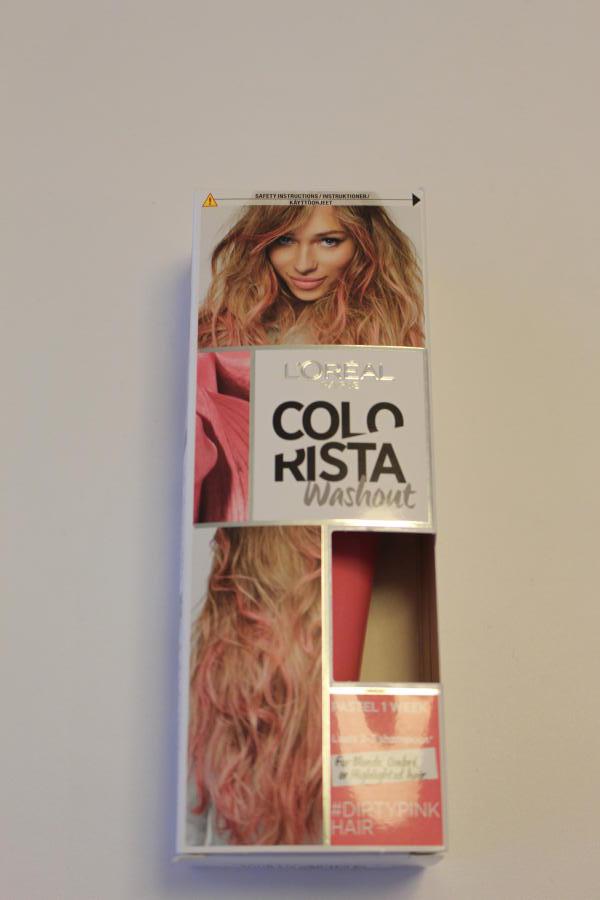 Processen gick till på följande sätt:
1. tvätta & torka håret
2. applicera färgen
3. låt färgen mysa i 15 – 20 minuter beroende på hur intensiv du vill ha färgen
4. skölj håret med vatten tills vattnet är genomskinligt
Tack vare de medföljande plasthandskarna lyckades jag unvika att bli alltför dirty men jag måste faktiskt säga att min fru verkligen är "pretty in pink", en härlig vår-touch på det blonda håret. Det är naturligtvis ett litet projekt att färga håret hemma men det var inte så fasligt svårt att göra (när man har tillgång till en hjälpande hand – me me me). Dessutom förenklades förfarandet av det faktum att vi "bara" gjorde en ombré, smidigt för mig att inte behöva arbeta alltför nära hårrötterna och faktum är att den bifogade mängden färgämne i flaskan räckte ganska precis för att mina klåfingrar skulle lyckas täcka 2/3 av frisyren. Nu kan min fru förhoppningsvis möte några av vårens solstrålar under påskhelgen för färgen är i mitt tycke vackrast i solljus. Om jag sparar ut lite längre hår kanske jag kan bli pretty in pink nästa påsk.
L'Oréal Coloristaspray 1 day color kan ni läsa om här.

Hi Åsas husband here. Earlier this weekend me and my wife colored our hair… Well actually my wife's hair got colored and I helped out. On the menu for the day was L'Oréal Colorista Wash out in dirty pink.
The process went like this:
1. wash & and dry the hair
2. Apply the color to the hair
3. Wait for 15-20 minutes depending on how intense color you want
4. Rinse the hair until water runs clear
Thanks to the plastic gloves included I managed not to get dirty but I have to say my wife is "pretty in pink", a nice spring touch to the blond hair. It's a bit of a project to color your hair at home but with a helping hand -me,me,me- it's not that hard. And the fact that we "only" did a ombré and didn't colored the entire hair made it easier for me since I didn't had to work so close to the roots of the hair. It was just about he right amount of color go me to do a ombré it probably would have been enough for the whole head of hair. Now my wife can hopefully meet the spring sunshine with pink hair this weekend. If you ask me the color looks best in sunshine. If I let my hair grow maybe I can be pretty in pink next Easter.