Riviera Glamour är den tredje och sista sommarkollektionen från Depend. Det här är sommarkollektionen i deras 7Day serie det vill säga lacken som ska ha lite bättre hållbarhet. Kollektionen består av elva lack och finns i butik sedan vecka 21.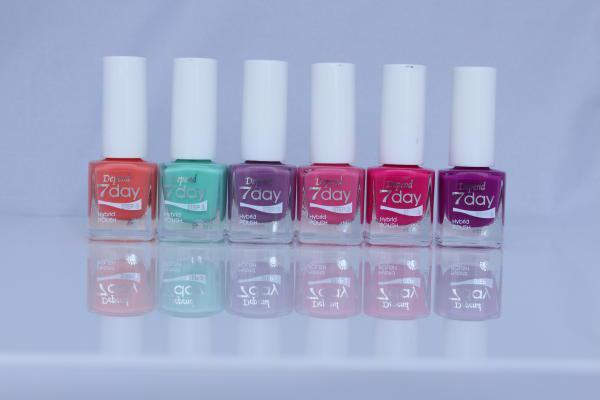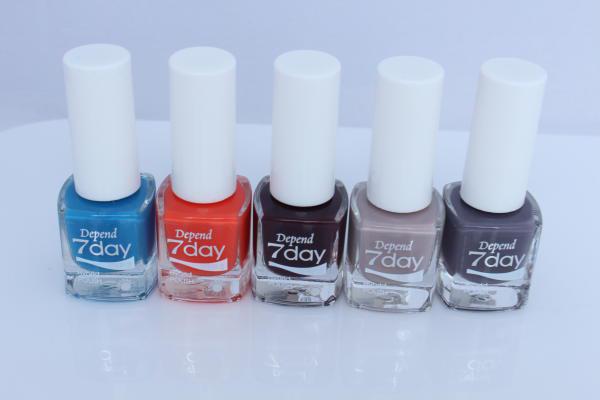 Depend beskriver själv kollektionen så här
Varje sommar fylls stränderna på Rivieran av livsnjutare som älskar sol, bad och flärd. Vi går i land i Saint-Tropez hamn. Franska Rivierans trendigaste ort. Där känner vi den härliga energin från det kristallblå vattnet och de vajande parasollerna under varma soliga dagar. Skarpare kulörer på våra naglar blir pricken över i och får oss att känna lyxen i vardagen. Insup elegansen i nyanserna i 7day kollektionen Riviera Glamour i sommar.
Jag älskar den här kollektionen! Snygg, genomtänkt och med några lack som sticker ut lite i en sommarkollektion.
Själv sträckte jag mig omedelbart efter mörkt vinröda Born Rich. Verkligen inte en typisk sommarfärger men så snyggt!
I övrigt hittar du några söta pasteller, några starka neoniga färger och två gråtonade lack.
Utöver Born Rich har jag inte hunnit testa några fler lack ur den här kollektionen än. Knallorangea Five Star Chic talade till mig men tyvärr hade den flaskan gått sönder i posthanteringen så den hade massor med vassa kanter under och det lossnade vasst glassplitter från den så den hamnade i soporna efter fotografering. Ni ser i alla fall en swatch ovan.
Du kan även titta närmare på Riviera Glamour kollektionen hos Krizz & Sofie.
Riviera Glamour is the third and last summer collection from Depend. This is the summer collection in their 7Day formula. These are supposed to last for seven days.  In the collection you'll find eleven polishes and they are available since week 21.
Depend themselves describes the collection like this

Every summer the beaches of the Riviera are filled with enjoyers of life that loves the sun, swimming in the ocean and the luxury. We anchor in the Saint-Tropez harbor. The trendiest place of the Riviera. Here we feel the lovely energy from the crystal blue ocean and the parasols that flutter in the wind during sunny days. Brighter colors on our nails become the icing on the cake and makes us feel the luxury of every day life.  Savor the elegance of the shades in the 7day collection Riviera Glamour this summer.
I love this collection!  Beautiful well thought-out collection with some polishes that stands out in a summer collection.
Me, I immediately reached for the dark burgundy polish Born Rich. Definitely not your standard summer color but oh so beautiful! 
You also find some pretty pastels, some hot bright neon shades and two grey toned polishes. 
Except for Born Rich I haven't had time to try any of the other polishes from this collection on my nails. Hot bright orange Five Star Chic spoke to my heart but unfortunately it had broken in the mail so it had razor sharp glass edges and glass shards was falling loose from it so it went into the trash after I had swatched it. You at least got to see a swatch.