Jamela 24 karats Guldkollagen mask för ansiktet innehåller 24 karats guld vilket onekligen får den att låta och se lyxig ut. Masken i sig riktigt strålar men ger den lika strålande resultat?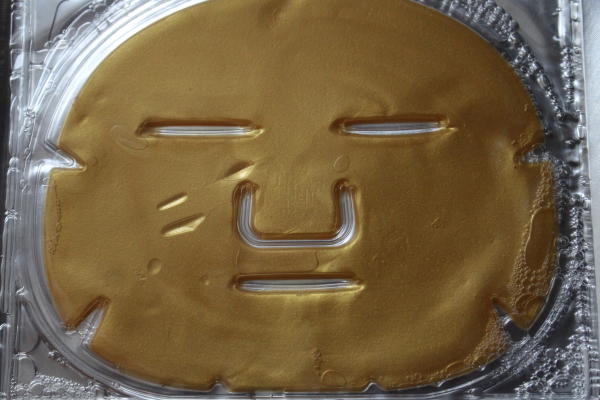 Jamela 24 karats guldkollagenmask för ansiktet är fantastiskt smidig och väldigt skön att ha på sig. Trevlig passform. Däremot så märker jag inte direkt något resultat efter att endast använt den en gång. Rekommenderat användningsintervall är dock 2-3 ggr/vecka. Vilket inte blir direkt billigt då en ask med fem masker kostar 685 kr. Efter en användning märker jag som sagt nästan ingen skillnad alls men den var sval och skön att ha på. Jag hade hoppats att märka någon skillnad redan efter första användning och känner mig inte överdrivet imponerad av den här. Även om det hade varit intressant att se om den ger fint resultat vid mer konsekvent användning så är jag inte beredd att lägga 685 kr för att testa.  Jamela 24 karats guldkollagenmask för ögonen älskade jag däremot så de kan jag definitivt tänka mig att köpa. Dem kan ni läsa om här.
INCI: Aqua, Rosa Damascena Flower Water, Soluble Collagen, Chondrus Crispus Powder, Betaine, Propylene Glycol, Glycerin, Allantoin, Sodium Hyaluronate, Rosa Damascena Flower Oil, Dipotassium Glycyrrhizate, Mica, Olive Oil Peg-7 Esters, Beta-Glucan, Polysorbate 20, CI 77891, CI 77491, Gold, Phenoxyethanol, Citronellol, Eugenol, Geraniol
Jamela 24 carat Gold collagen mask for the face contains 24 carat gold which certainly makes it sounds and look luxurious.  The mask itself is glowing but does it give a glowing result?

Jamela's 24 carat  gold collagen mask for the face is easy to apply and fits well. It feels very nice on but unfortunately I didn't see much of a result after just one use. It's recommended that you use the mask 2-3 times a week but it's not exactly cheap. As I said I didn't notice much result after use but it feels nice and cooling on.  I had hoped that I would notice more of a difference after I've tried it. I have to say I'm not that impressed. I would have been interesting to see if it would give great result after more consistent use but I'm not in the mood for spending a lot of money on a mask that might just feel nice on but don't make a difference to my skin. The gold eye masks from Jamela on the other hand, those I loved. You can read about them here.
INCI: Aqua, Rosa Damascena Flower Water, Soluble Collagen, Chondrus Crispus Powder, Betaine, Propylene Glycol, Glycerin, Allantoin, Sodium Hyaluronate, Rosa Damascena Flower Oil, Dipotassium Glycyrrhizate, Mica, Olive Oil Peg-7 Esters, Beta-Glucan, Polysorbate 20, CI 77891, CI 77491, Gold, Phenoxyethanol, Citronellol, Eugenol, Geraniol