i Belivyu är ett Koreanskt märke. Jag har nu testat en kvartett av blomdoftande handkrämer från märket.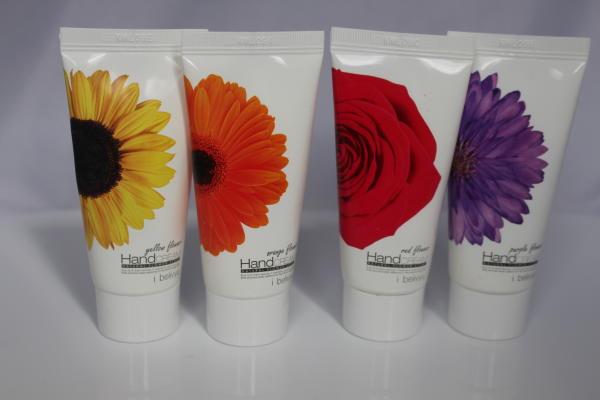 De handkrämer jag testat är i Belivyu natural flower story Purple Flowers hand cream, i Belivyu natural flower story Red Flowers hand cream, i Belivyu  natural flower story Yellow Flowers hand cream och i Belivyu natural flower story Orange Flowers hand cream.
Red Flowers doftar ros, Purple Flowers doftar lavender, Yellow Flowera luktar solros och Orange Flowers doftar färgtistel. Jag gillar den orange mest och sedan den gula.
Alla fyra handkrämer är trevliga. Dofterna är inte för tunga och krämerna absorberas snabbt så händerna inte blir kladdiga.Dessa är alldeles för lätta för mig vintertid när jag får jättetorra händer men så här års är de helt perfekta. Trots att de är lätta så blev händerna härligt återfuktade och babymjuka. Jag gillar dem. De jag testade innehöll alla 30 ml/st och var perfekt storlek att ha med i handväskan.
Handkrämerna innehåller bl.a. vitamin E kapslar, sheasmör och argan olja.
i Belivyu is a Korean brand. I've now tried a quartet of flower scented hand creams from the brand.
I've tried i there natural flower story hand creams in Purple Flowers, Red Flowers, Yellow Flowers  and Orange Flowers.
Scent wise the Red flowers smells like roses, the Purple flowers smells lavender, the Orange Flowers one smells like Safflowers and the Yellow Flowers smells like Sunflowers. I like the Orange Flowers best and then the Yellow Flowers.

All four of the hand creams are nice. The scents aren't too overwhelming and they are fast absorbed so the hands doesn't feel sticky. They are to light for me during winter when my hands get really dry but this time of the year they are perfect. Even though they are quite light they do make my hands feel moisturized and baby soft. I liked these. The once I tried where all 1.0 fl. oz. each and the perfect size to keep in your handbag.

Amongst others these hand creams contains ingredients like vitamin E capsules, shea butter and argan oil.