Apoliva Passion & Nature duschgel och body lotion frisk citrus beskrivs som en dröm om varma sommarvindar och frisk citrus och ska ha en frisk doft av bergamott, rabarber och grapefrukt. Produkterna är limited edition upplaga för sommaren 2016.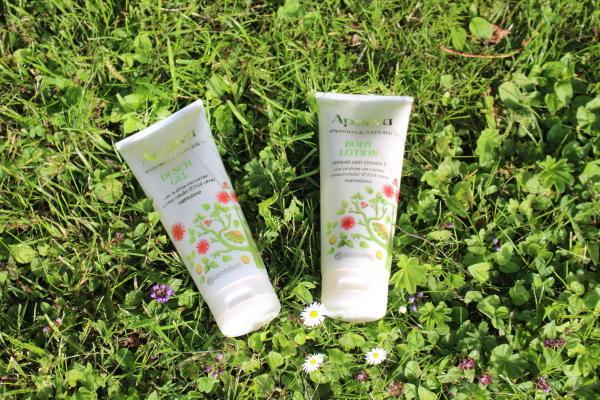 När jag öppnade duschgelen i duschen tyckte jag att den doftade som nyutslagna björklöv, min man att det doftade frukt. Vi enades sedan om att den doftar grapefrukt. Vilket stämmer bra med innehållet också. Duschgelen innehåller bl.a. Shea Butteramidopropyl Betaine. Huden blir oljig och hal i duschen av produkten och känns inte så torr efteråt. Den har en frisk och uppfriskande doft av grapefrukt.
Bodylotionen har samma friska och pigga doft av grapefrukt. Den går hyffsat snabbt att smörja in och huden känns inte kladdig efteråt. Den här är lite för lätt för vintertorra ben men fuktar perfekt så här års.
Apoliva Passion & Nature shower gel and body lotion fresh citrus is described as a dream about warm summer breezes and fresh citrus and is suppose to smell of bergamot,  rhubarb and grape fruit. The products are limited edition for the summer 2016.
When I opened the shower gel I thought it smelled like new birch leaf. My husband that it smelled like fruit. We soon came to the conclusion that it smelled like grape fruit. Which also sounds right considering the ingredients. The shower gel contains amongst other things Shea Butteramidopropyl Betaine and makes the skin feel a bit oily and slippery in the shower and doesn't make the skin feel dry afterwards. It has a fresh grape fruit scent.
The body lotion has the same fresh grape fruit scent. It's quite fast absorbed by the skin so it doesn't make the skin feel sticky. This is to light for winter dry legs but this time a year it's just enough.