3W Clinic Golden Foot care är en mask för fötterna. Av någon anledning har den en SAMSUNG logga på förpackning. Jag hade ingen aning om att de även hade gett sig in i hudvårdsbranchen men jag blir aldrig förvånad.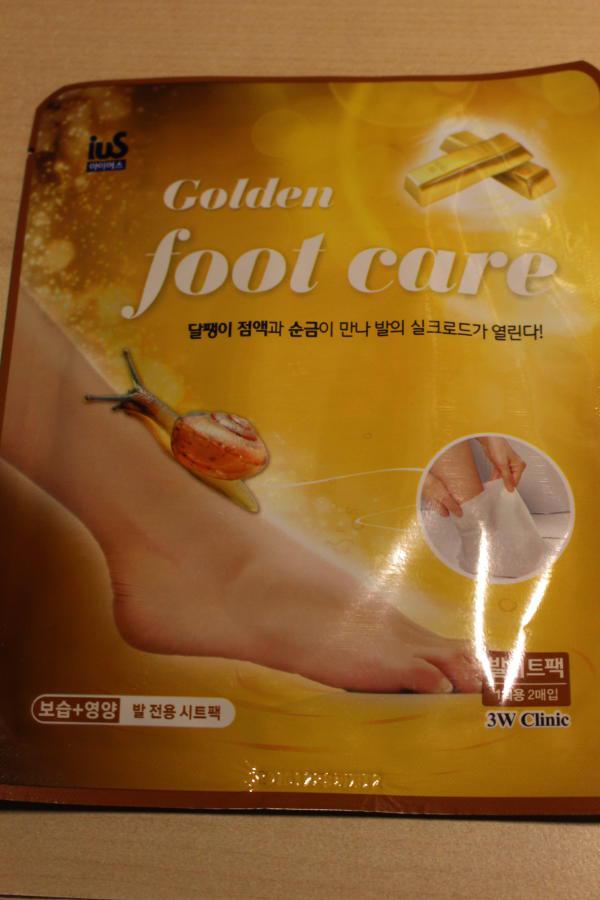 Så masken ser ut som en strumpformad plastpåse som du trär på foten. Påsen är fylld med mjukgörande serum och ska verka i 15-20 minuter. Påsen kan hållas på plats med ett gummiband vilket jag gjorde eftersom den är ganska stor och inte direkt sitter på plats annars. 3W Clinic Golden Foot care gav inget fantastiskt resultat men fötterna blev säkert åtminstone lite återfuktade. En fotkräm ger dock mycket bättre resultat än den här masken gjorde. Medan den verkade kunde jag i alla fall ta det lugnt och mysa lite och det är ju aldrig fel. Men nej, 3W Clinic Golden Foot care är ingen undergörare. Kanske SAMSUNG bör hålla sig till det som de kan och fortsätta tillverka elektronik istället?
3W Clinic Golden Foot care is a mask for your feet. For some reasone the pack has a SAMSUNG logo on it. I had no idea they where in the beauty business as well. Well nothing surprises me.
The mask looks like a sock shaped plastic bag that you put your feet in. The bags are filled with a serum that's suppose to work for 15-20 minutes. The bag can be hold in place with a rubber band which I did cause they aren't exactly a good fit so they would stay on if I didn't secure it. 3W Clinic Golden Foot care didn't give any amazing result but I guess my feet at least got a bit moisturized. A foot cream gives much more result than this did though. While I was wearing the mask I could relax for a bit and that's always a good thing. But no, 3W Clinic Golden Foot care isn't a miracle cure for feet. Maybe SAMSUNG should continue with what they are good at and keep on doing electronics instead?